There are two ways to think of the normal force: the supporting force or the pressing force. The idea of the supporting force is helpful to calculate the normal force. The idea of the pressing force helps you realize why an increase in normal force increases the friction.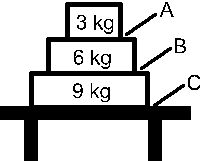 How much normal force is there between the 3 kg and 6 kg object? (Remember to use forces not masses.)
Don't include units in your answer.